Hioki Memory HiLoggers are high-speed data loggers for recording multiple chanels of voltage, temperature, resistance, humidity, rotation, and pulse signals, providing complete isolation within channel sets. The 8423 with optional input modules log data at 10ms speeds across up to 600 simultaneously, and is configurable and controllable using a PC.

Key Features
• Capture data with 15 to a maximum of 600 channels
• Send data to the PC in real time
• Isolated to sustain up to 600 V between modules and earth
• USB 2.0, LAN 100BASE-TX, store to 1GB PC Card
• Simultaneous fast- and low-speed sampling allows for media storage space efficiency

Model No. (Order Code)

Note: 8423 cannot operate alone. You must install one or more optional input modules in the unit. Thermocouples are not provided by HIOKI, and must be purchased from a separate vendor.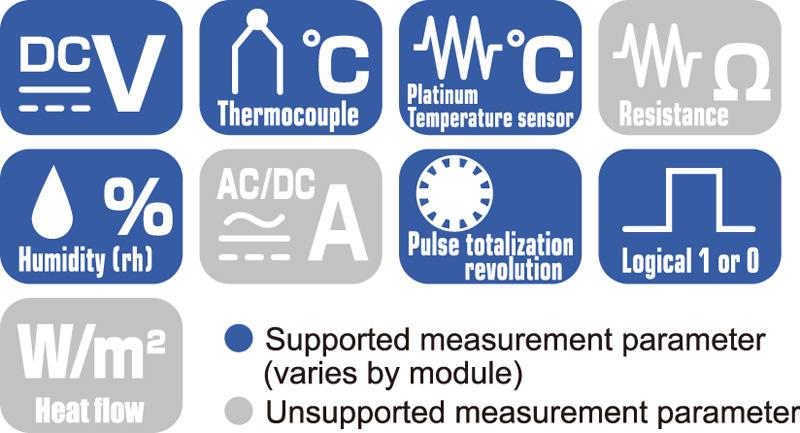 Introducing a multichannel logger that can be expanded to accommodate various applications
The 8423 can be expanded with up to eight input modules. Four different types of module can be mixed and matched to accommodate specific applications.

Adding an input module is easy thanks to one-touch installation. And since the 8423 can be mounted on industry-standard DIN rails, it's ideal for use in embedded and rack-mounted applications.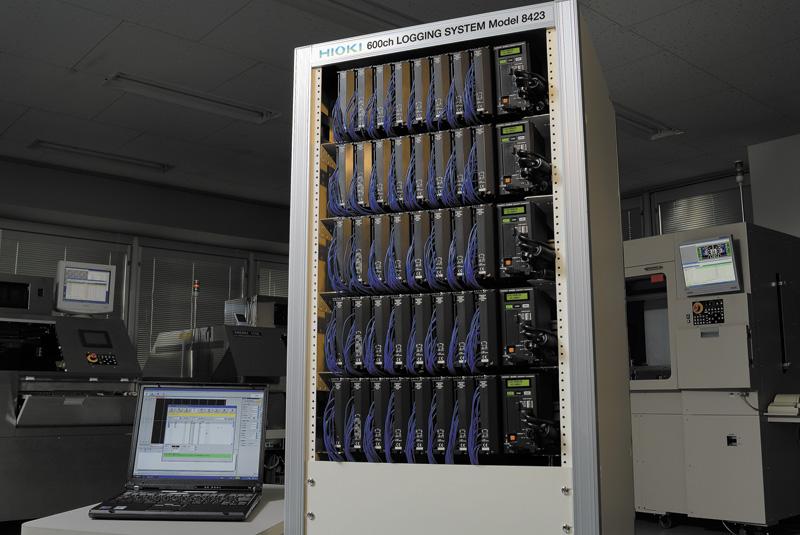 Introducing a multichannel logger that can measure up to 40 modules (600 channels)
A single 8423 can be expanded with up to eight input modules (for a total of 120 channels).
Those eight modules constitute one system, and the product can be expanded to include up to five systems (providing the ability to measure 600 channels).

What's more, data can be collected from all 600 channels in as little as 10 msec, making the 8423 ideal for use in measurement applications that involve rapid fluctuations in load, for example hybrid vehicles.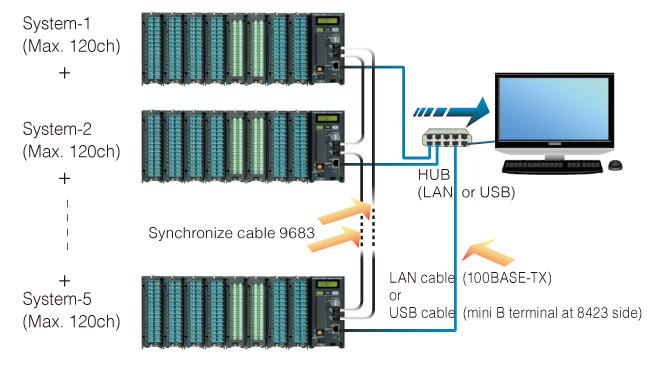 All-Channel Synchronous Measurement Capability
When measuring up to 120 channels on combined modules, all input channels are sampled synchronously. When multiple 8423s are connected via LAN or USB for measuring up to 600 channels, the sampling of each instrument in the system can be synchronized using optional Connection Cable Model 9683.

As well as PC-based data collection, measurement start and stop can be controlled by the [START/MARK] and [STOP] keys on a master 8423.

Note: Any 8423 may be designated as the master.
Only the initial acquisition criteria setting needs to be performed on a PC via USB or LAN.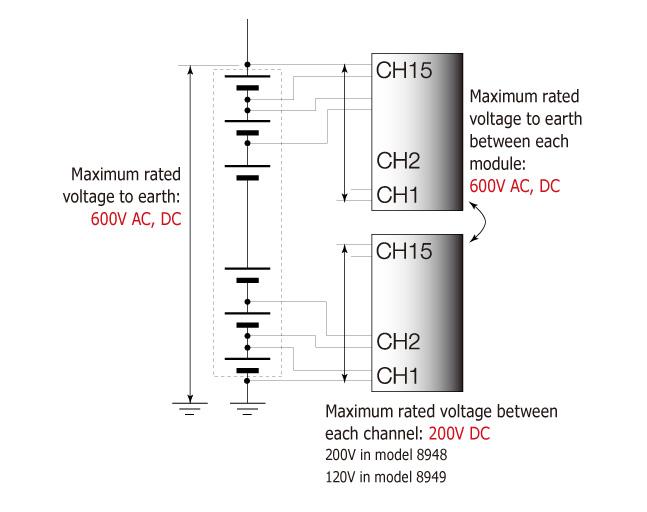 Isolated to sustain up to 600 V between modules and earth
With all channels isolated and a 600V AC/DC maximum rated voltage to earth, even when the common mode voltage increases as is common with layered batteries, the voltage of each individual battery cell can be safely measured.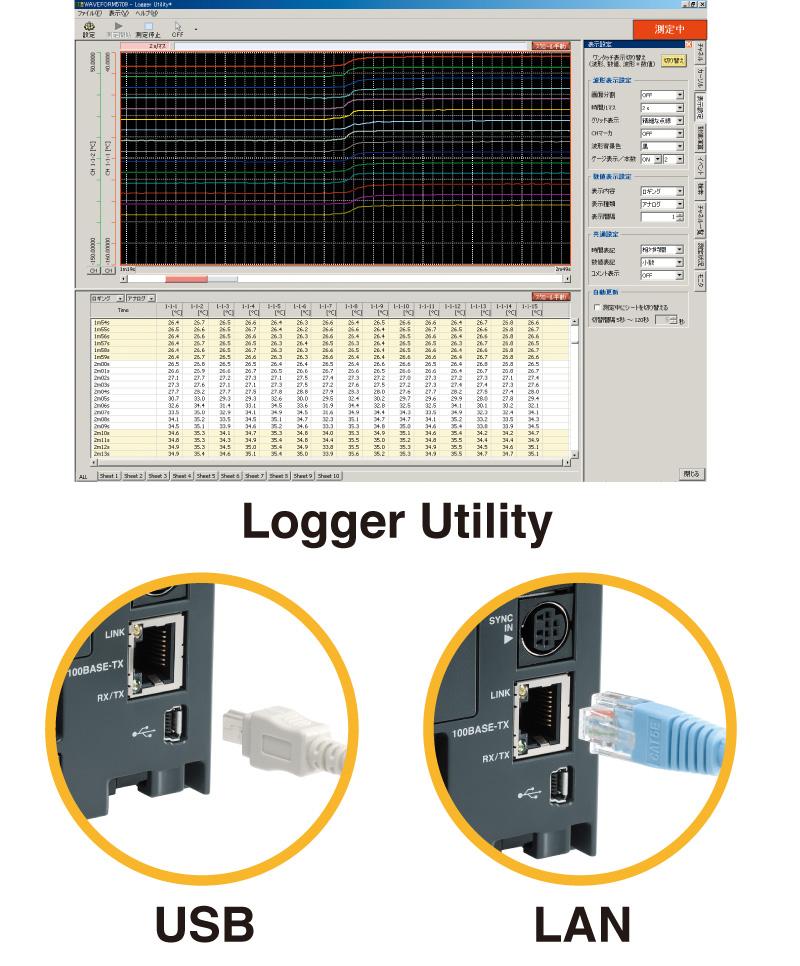 Included PC application with measurement and analysis functionality
The supplied Logger Utility software enables processing of measurement data on a PC.

Use the supplied Logger Utility software to record data on a PC in real-time. View past data during recording.

Connect the PC to the HiLOGGER using USB or via LAN.