DIGITAL PHASE DETECTOR
PD3259
Digital Phase Rotation Meter with Three-Phase Voltage
Measurement Functionality
Hioki's non-contact voltage detection and measurement technology places efficiency and safety as priority considerations with the goal of protecting customers that need to conduct on-site electrical work as part of renovations and expansions of manufacturing plants and buildings. The PD3259 Digital Phase Detector lets you to measure three-phase voltage and detect phase sequence simultaneously by just clipping onto covered cables, ensuring absolutely no contact with metal parts for maximum safety.

CAT IV 600 V

Recipient of the Good Design Award 2016
A comment from the Japan Good Design Association
"I was impressed by Hioki's commercialization of no-metal-contact voltage measurement technology, which not only eliminates the risk of electric shock while performing electrical work in the field, but also contributes greatly to reducing workload, both psychologically and in terms of man-hours required to complete a task. In addition, the product's size and interface are well considered in light of a basic design that differs from past products due to the use of no-contact technology."

Key Features
• World's first non-metallic contact voltage detection and testing
• Simply clip onto wire insulation
• Phase detection check and line-to-line voltage inspection at the same time
• Easy and intuitive phase detection check with backlight and buzzer
• Ideal for work certification photos, offering simultaneous display of phase sequence and 3-phase voltage

Note: Only the voltage value is displayed when measuring a single-phase/3-wire circuit.

Model No. (Order Code)
How to Use the Hioki Digital Phase Detector PD3259
How to Use the Hioki Digital Phase Detector PD3259 In the past, four steps have been necessary in order to check a 3-phase power circuit: one set of measurements to check the phases with a phase detector, and three line-voltage measurements (one for each phase) made with a tester. The Digital Phase Detector PD3259 replaces this process with a single, no-metal-contact measurement step that can be made simply by affixing three clamp sensors. The instrument quickly displays the phase detection results and three phase voltage values.

*This video depicts measurement of a 3-phase power circuit in Japan. The instrument can also be used to measure power circuits in other countries, for example 3-phase/4-wire circuits.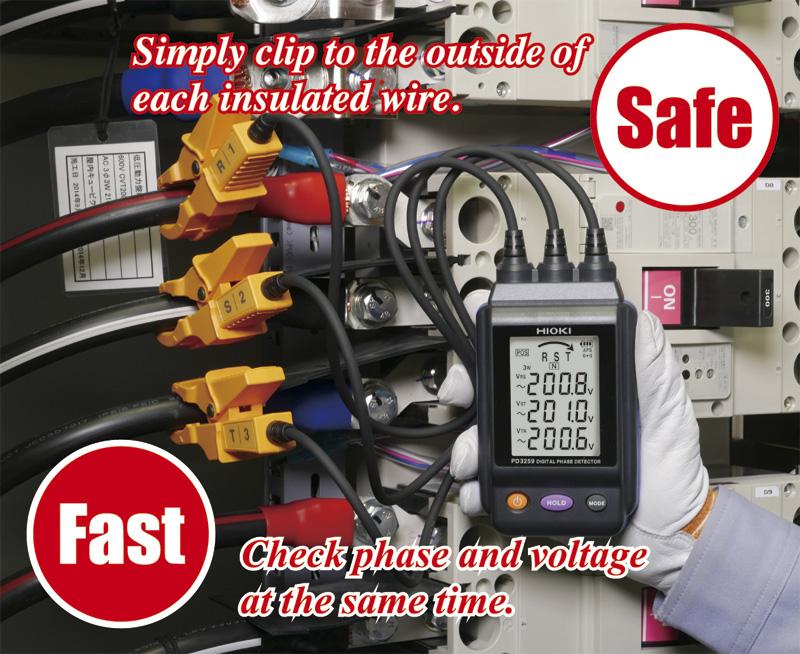 Phase detector + tester functionality: At-a-glance, no-metal-contact phase detection and line voltage measurement in 3-phase circuits
With the PD3259, you can check both phase order and line voltages simply by clipping the sensors to the outside of the circuit's insulated wires.
No-metal-contact measurement means maximum safety.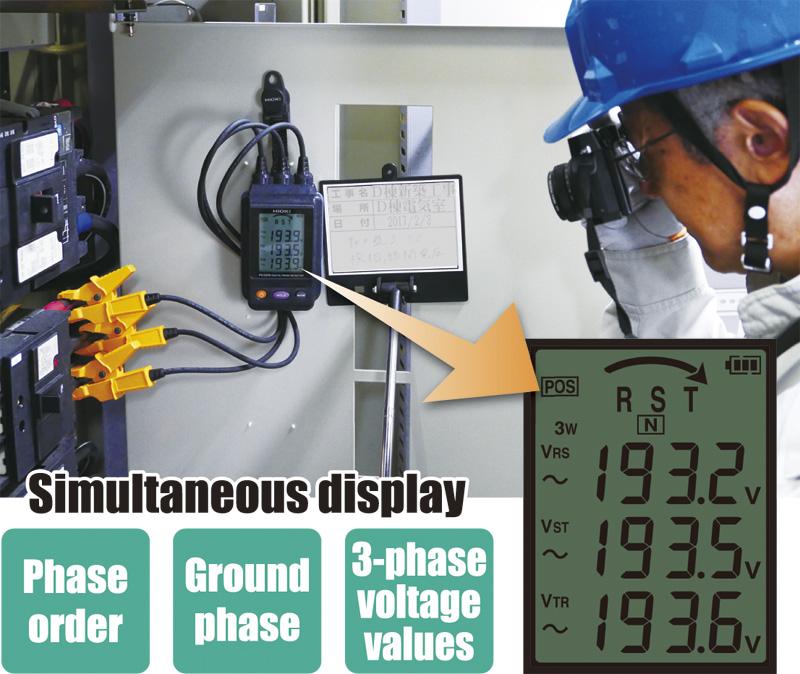 Simultaneous display of phase order, ground phase, and 3-phase voltage values
Phase order, ground phase, and 3-phase voltage values are displayed at the same time on a large, easy-to-see display that can be used as-is to create photographs to document electrical installations.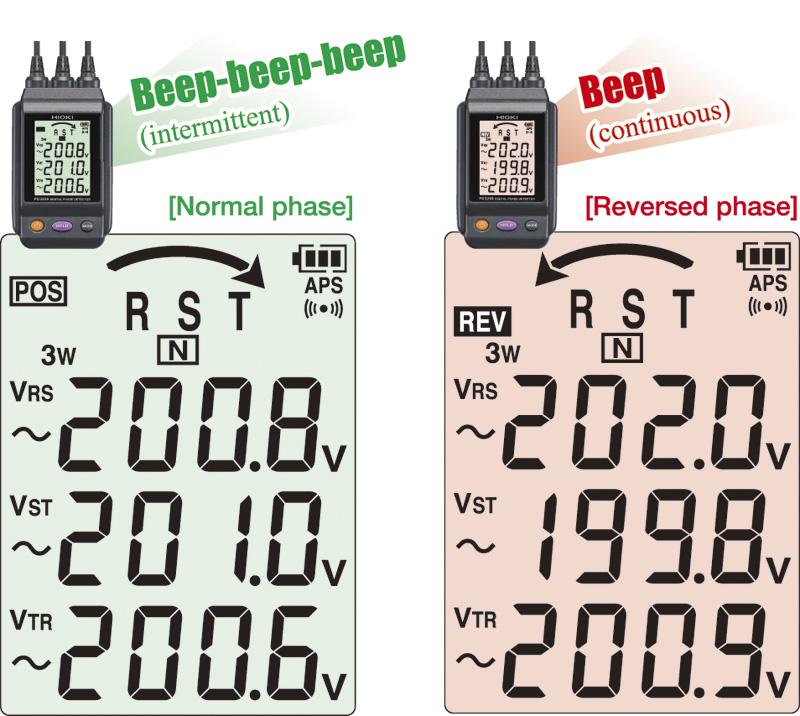 Easy-to-understand visual and aural communication of judgment results
The PD3259 indicates phase order (normal/reversed) judgment results via the color of its backlight and a beeping sound.

[Normal phase order]
Backlight: Green
Beeping: Intermittent tone

[Reversed phase order]
Backlight: Red
Beeping: Continuous tone